Zen Garden Submission
Wednesday, January 21, 2004 at 4:19 am |

Comments off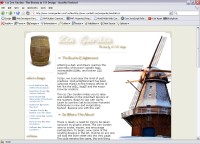 I recently submitted a design to the CSS Zen Garden entitled "Windmill". It was not selected as an official design, but rather was listed as a conceptual design. I enjoyed making the submission, and would like to do another, once I get some more time.
For those of you who are unaware of what the Zen Garden is, it is basically a showcase of what can be done with CSS. It uses the same semantic XHTML, with the only difference between the entries being the CSS files. It's purpose is to help prove that CSS is to be taken seriously, and can be used to create very aesthetically appealing layouts. For that, it is to be adamantly applauded.
Obviously any feedback on my design would be appreciated. Like it? Dislike it? Let me know...
Comments
Comments are automatically closed after 45 days