Design Work: TiVo Fall TV
Friday, October 9, 2009 at 11:40 pm |

Comments off
I recently had the opportunity to do some design work for TiVo, as a part of a Fall TV marketing campaign. This work included creating a "Build Your Own Network Game" and three Facebook apps.
The Network Game allows you to create your dream lineup, placing shows when you would like them to air. The design brief for the Network Game was "old school network executive". They wanted it to mimic what a network lineup of old would have looked like. I decided on a cork board of the prime time TV grid, with a typewritten listing of all the shows taped to the wall below it. As you click on the shows in the list, a index card with the show details appears, which can be dragged to the grid above. Once you drop the index card on the grid, a pin attaches a smaller index card to the board (the pin position is randomized every time you drop a card). Clicking on these in the grid again brings up the larger version of the index card. Both the large and the small index cards can be dragged around the grid. Once you are satisfied with your lineup, you can save and share it. After you've saved your lineup, it will track the ratings of all your shows, give you your overall network rating and let you know how you are fairing as a network executive.
The Facebook apps all share a similar design and functionality. They are fun TV related quizzes – Who's You Baddie identifies your inner TV villain, TiVo Picks recommends the debut show that's right for you and What Was On TV That Year? is a TV time machine, showing you what ruled the airwaves in years past.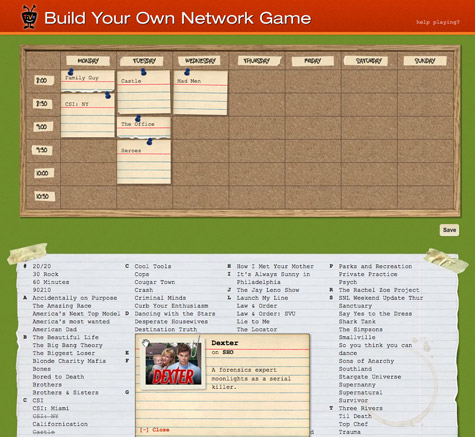 Build Your Own Network Game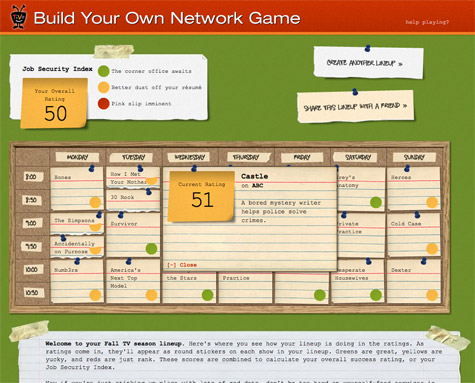 Saved Network Lineup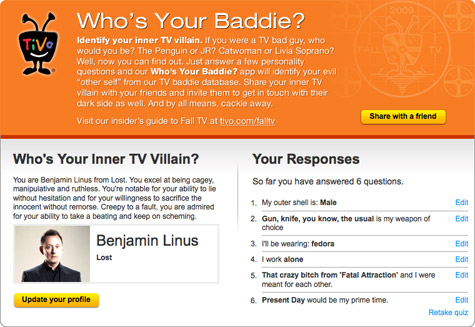 Who's You Baddie? Facebook app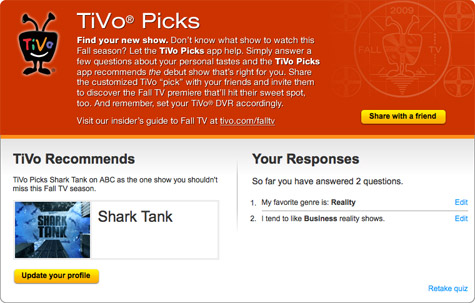 TiVo Recommends Facebook app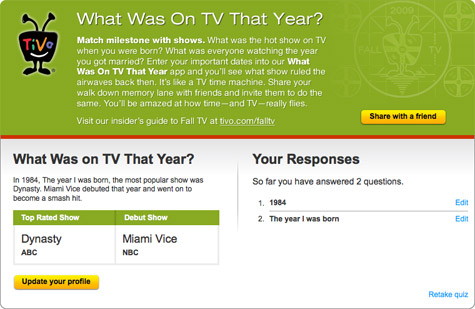 What Was On TV That Year Facebook app
Comments
Comments are automatically closed after 45 days