Nice Error Messages
Tuesday, October 11, 2005 at 7:59 pm |

Comments off
I think it is safe to say that error messages are far too often overlooked. But yet, they are such an important element of user experience, and it is extremely important to help users along when a mistake has been made. Let's take a look into the error handing I've used on my contact page. Feel free to error the form, for a better example of how the error processing works. It should be quite painless.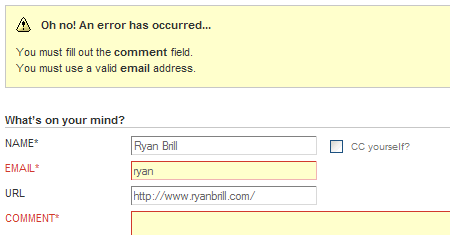 With this form, I've done 3 main things to show the user that there was an error and help them fix it and be on their way.
Use of an alert icon - . This helps the user instantly know that some sort of error has occurred.
Concise explanation of what the user did wrong and what needs to be done to fix the problem. I've also used labels in the error messages, which allows users to click on the message and be taken to the field that needs to be fixed.
Highlighting of the incomplete or incorrect form fields. Again, this helps users see what fields need to be changed at a glance and takes all guesswork out of what needs to be done and which fields are incorrect.
Don't forget to plan for errors. When users have options, especially when they have the option for direct input, errors are bound to occur. It's important to help users be on their way as quickly and easily as possible.
For those interested in more information on this subject, I highly recommend 37signals' book, Defensive Design for the Web
Comments
Comments are automatically closed after 45 days